Karl Lagerfeld, the famous creative director of the French luxury fashion house "Chanel", has yet again outdone himself in the latest Chanel pre-fall 2019's fashion show.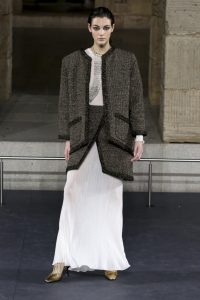 Set around the astonishing Metropolitan Museum of Arts 10 B.C's Temple of Dendur, the show was a tribute to the art of craftsmanship. It was a consistent combination of Ancient Egypt and modern Chanel's styles.
To make the scenery more reliable, all surrounding columns have been covered with thick papyrus. However, the temple itself, was partially covered and hidden from the audience. This made the place look more dramatic, as if the Guests were to enter a secret Ancient gathering.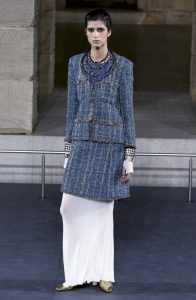 Lagerfeld started the show with the famous Chanel tweed jackets, which were presented during his last spring-summer show as well. However, this time the bright colours have been replaced by gold and ivory tones.
Presented alongside the jackets were angle cut skirts and ankle-length dresses, which looked almost like the wrap around skirts used by men in Ancient Egypt and linen dresses worn by Cleopatra.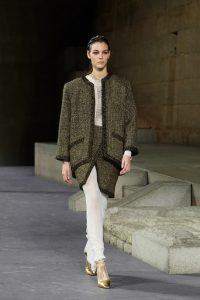 To highlight the luxury of the Ancient Egypt, the models were given gold and scarab blue jewellery and had simple, metallic makeup resembling the Eye of Horus.
The entire show was a great success. The collection showed Lagerfeld's infinite curiosity and need for exploring the cultural heritage. It is visible that his creativity never ceases to amaze, after each collection. The genius of the event was Karl's ability to combine the ancient style with traditional though modernized, iconic Chanel clothing.
The collection was one of the Metier d'art one which means that it was made in order to show that nowadays fashion craftsmanship is still important. The embroidery, detailing and luxury of the fabrics used in the show was highly visible.
More importantly the alligator/snake type fabric were just imitation, Chanel announced that they will no longer use real furs and leathers. This is a great step for the animal right's community and it spread an important message to the fashion industry.
It is worth mentioning that the idea of using Egyptian motives in shows is not quite new. It was used before by Dior (2004) or John Galliano (1997). Even though this idea was not exclusively Lagerfeld's, he managed to show it in a totally different and surprising way without even a slight replicating. By doing this he proved once again that he deserves to lead the global fashion house that is Chanel. Not only was the show a nod to the ancient era, but also to the legacy of Coco Chanel herself.
Jagoda Tragarz, IB 1