On May the 4th at 8 o'clock in the morning when most of the senior students all over Poland were preparing for their Finale exams, MYP1 from Raszyńska IB started a long journey towards the misty mountains – Tatras.
Comfortable buses with air conditioners and smiling drivers took us first to the nearest McDonald's outside Warsaw. We were more than happy to taste the multi ingredients fries and very far from "sugar free" milkshakes.
First stop – Tyniec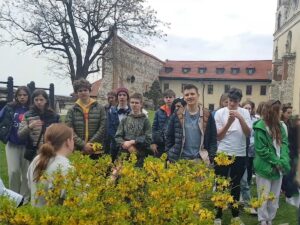 Our first stop, after McDonald's of course, was in the benedictine abbey in Tyniec. It was a very interesting experience, some people were enjoying the around 1000 years old buildings, while others preferred to relax in a medieval, fortunately not working, hearth.
However, the time was calling and most of us were also quite tired. Therefore, we got on to our buses and headed again towards our destination.
We arrived around 6 pm and many of us, in the spilt of a second, rushed towards the swimming pool. Some even went to the gym, played tennis or basketball. Overall, with these amazing experiences we smoothly and more importantly, quietly fell asleep.
The hotel we stayed at, had an amazing view and numerous attractions. The food was tasty and there was a lot of it. The teachers also spent quality time, bounding with us by organizing a friendly volleyball tournament. Hubert Jaworski
Visit in Zakopane
The next two days we spent actively in different ways. What many of us appreciated, was the fact that we had a freedom of choice when it came to spending our time. We could either stay in the room or play volleyball match with our teachers. Also worth mentioning is an unforgettable story, when we were about to visit Gubałówka mountain and the Krupówki street in Zakopane.
Great choice of the place and time management in the agenda. It was very cool that the teachers took us to sight-seeing. Zosia Jakubiak
Before going there we partially knew that it was probable to rain in that region, however we decided to go. Unfortunately we did not enjoy it there, as after about 10 minutes of parting with our teachers to explore the Krupówki on our own, it started to rain. It wasn't just a simple rain. It was raining heavily and most of us were very very wet. Thanks to that, we learned that we should always listen to the weather forcasts.
Artistic competition
During our stay we also had a competition. Our task, was to, using the language in Zakopane, create a story which we would present in front of our teachers and peers. The stories were incredible and they proved that we have many artistic souls in our school which are to be yet discovered.
This trip was not only about having fun, because we also had to keep in mind our educational side. On our almost last day, we were given a workshops/lectures about our upcoming community project and "savoir vivre"- knowing how to live.
Our trip was ,to say the least, amazing. We had a lot of fun and we could relax after our Mid-semester exams just to get ready for the last weeks of school. We are greatful to our teachers who kept up and took care of us:)
Julia Burzyńska, MYP1(ic)