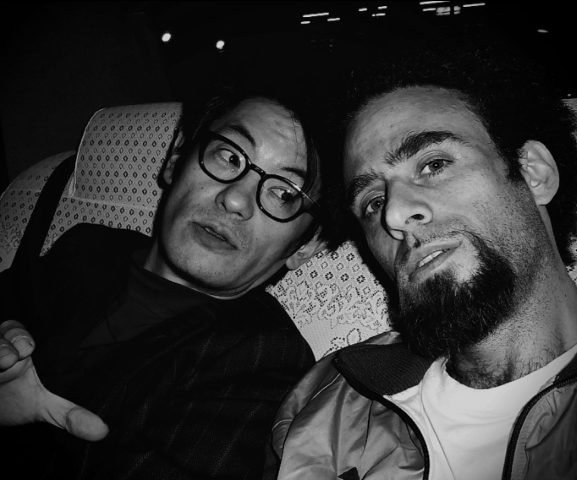 Wkrótce, 10 października 2013, na 2 i 3 lekcji w Nowej Auli, będziemy gościli w szkole grupę muzyków japońskich ze sceny hip hopowej i muzyki elektronicznej.  Będzie można nauczyć się miksowania! Pomysłodawcą spotkania i jego koordynatorem jest Klaudiusz Ślusarczyk (nauczyciel języka angielskiego, wychowawca, nauczyciel tańca i ruchu scenicznego).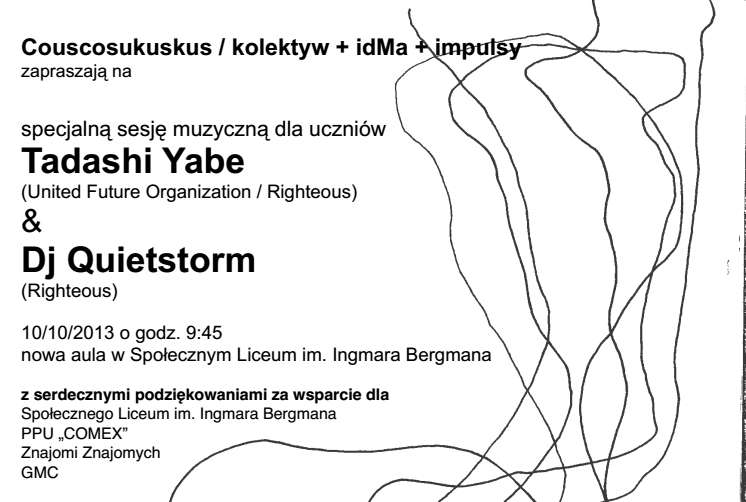 Ponadto 12 października odbędzie się wieczór "Lights and Music", na który zapraszamy. Więcej informacji o wydarzeniu na Facebooku.
Oto informacja o naszych gościach:
RIGHTEOUS
(Yabe Tadashi & DJ Quietstorm/JPN)
As the leader of the United Future Organization, Yabe Tadashi's influence in the worldwide club jazz scene has been a pioneering force since the early 1990's.  His influence as a solo artist has also been felt worldwide through countless works of varied styles, gaining great popularity while expanding beyond what is known as club jazz to include techno and house. DJ Quietstorm has called Tokyo's Nakameguro district home for the past 20 years and is also considered a pioneer in Tokyo's club culture, using his skills as a hip hop DJ to effortlessly flip jazz, blues, funk, rock, reggae, dub, bass, and house into a hip hop frame.  His hunger to advance the culture of DJ'ing provides him motivation to master new technologies and techniques, while his love of music shines thru the depth of sounds he combines.
These two dons of the Tokyo night have spent the last 20 years at the center of their own different facets of the scene, but it is their close friendship outside of the DJ booth that has kept them on close parallel courses.
With the lead song on the mule music compilation album The Definitive Japanese Scene Vol. 1, "Midnight Muse", Righteous made their official debut in 2009, gaining praise worldwide for the new jazz sound they offered as a self introduction. Under the name "Lights & Music" they are producing a series of music events which serve as a spring board for their sound and visuals as they grind away in the studio exploring the infinite possibilities that the combination of their respective talents offers them, and here in 2013 their long awaited first album finds itself ready for the world. The Righteous sound is the exciting result of two solid forces combining in both harmony and collision too, a sound that feels universal and yet avant-garde at the same time.  This magic sound is the unique and exclusive sound found only at the moment when Yabe Tadashi and DJ Quietstorm stand together on stage.
Here's some of their sounds: