"Moonrise over the sea" Caspar David Friedrich, 1822, Oil on canvas, 71.0 x 55.0 cm
German Romanticism was an intellectual movement among German-speaking countries and generally German-speaking communities in the late 18th and early 19th centuries. Its impact is reflected in aesthetics and literature. Compared to another pioneering European movement – English Romanticism, German Romanticism valued humor and beauty as well as wisdom.
Focus on nature
The object of focus at the time was nature and the spiritual aspects of it. Visual artists explored landscape psychization, portraying their motherlands.
The role of painters was to contemplate the ethereal, almost psychic character of the environment, and translate it into art.
The compositions varied for a modern viewer, some had a surrealistic feel into them, while others had more of an impressionist take. They ranged from dreamy sunsets by the sea, to dark mountainscapes, indicating a feeling of unsettlement.
Some landscapes included people: the narrators or objects of focalization. Viewers were meant to perceive nature through their eyes. Paintings would usually evoke emotions such as loneliness or weakness, but were also an appreciation of the immersing beauty of the (German) surrounding.
Caspar David Friedrich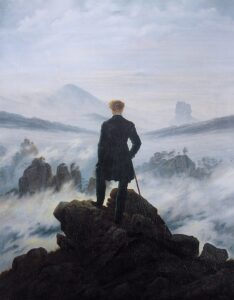 Perhaps the signature painting of the time period is 1818 Wanderer above the Sea of Fog. It shows a man standing back to the viewer, gazing into the canvas and observing a rocky land covered by a thick layer of haze.
The author of this masterpiece is Caspar David Friedrich. He is considered to be one of the most important German artists as "his often symbolic and anti-classical work seeks to convey a subjective, emotional response to the natural world."
His paintings featured dark silhouettes, Gothic ruins, as well as fogs or night skies. Other examples of Friedrich's landscapes include The Monk by the Sea (1810), Chalk Cliffs of Rugen (1818) , and Moonrise over the Sea (1822).
German Romanticism grew in popularity, along with the rise of nationalism within German states.
The visual movement has been used to evoke feelings of attachment to the land and patriotism. The mesmerizing and powerful beauty of nature in the artworks was identified with Germany and its values.
The escalation of the mindset became one of the reasons behind various political changes and major historical events (Unification of Germany).
Lila Kosieradzka, DP1